Even though Black Friday Friday and Cyber Monday is over, the holiday shopping season is still alive and kicking, as sales are ramping up across the web.
HP's latest promotion to drive computer sales sounds pretty good: "Our gift to you - Buy a PC, get a free NOOK Simple Touch."
Most shoppers will see that and say, "Hey, if I'm gonna buy a computer anyway, that's pretty sweet to get a free Nook thrown in too!"
But if you care about getting the most for your money, you should pause and ask yourself: "Is that really a good deal?"
Well we ran the numbers to help you find out.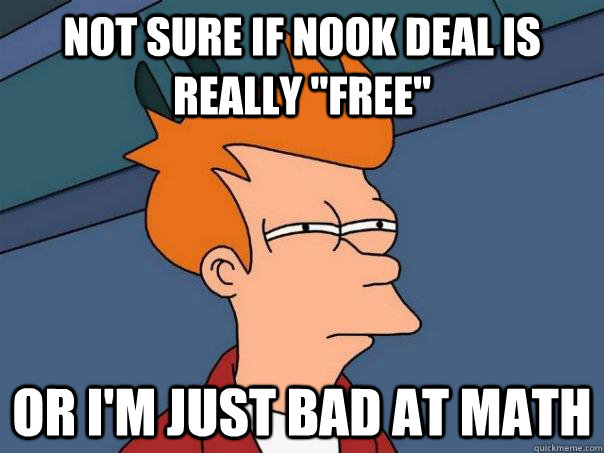 For every computer model sold by HP, we figured out the following:
The price of buying the PC alone with the biggest available coupon code
The price of getting the PC and bonus "free Nook" with the best coupon that works with that offer (usually only $20 off)
Then we calculated how much the "free Nook" really costs you over getting the best deal you could on the computer alone.
You can see the full results in the table below, but as with many things in life, the answer is "It depends."
Here's the good, bad, and the ugly.
The Good
In some cases like the Envy x2 convertible laptop/tablet or the Envy 4t Ultrabook, the Nook is actually "free." Getting the bonus Nook doesn't cost you a dime more than the best current deal price on those computers alone. Go for it!
The Bad
If you want HP's popular 17-inch Envy dv7t Quad Edition laptop, you'd actually be paying $180 more to get the PC+Nook offer than buying just the laptop with our coupon code. Funny, since you can buy the Nook Simple Touch by itself for $99. No reason to donate an extra $81 dollars to HP.
The Ugly
There are probably a few people who bought computers at HP this week, and got the Nook thrown in -- as a gift, remember, to them from HP -- and in the process actually paid $267 or even $355! for their "free Nook." Hmm...looks like HP is the one receiving the gift!
See the Envy Phoenix desktop models below. The h9-1340t costs $1,124.99 alone with our coupon. But if you add the "free Nook," the cheapest you can get it is $1,479.99 after the eligible $20 coupon code.