Are you thinking about pre-ordering Evolve? As its release date nears, Dealzon editor Mike Paddock breaks down the pricey Monster Race Edition + other editions of Evolve to figure out which one is worth buying.
On February 10th, Turtle Rock Studios unveils the latest co-op competitive shooter Evolve. The game pits four human "Hunters" against either an AI or player-controlled monster and will run you the standard $59.99 on PS4, Xbox One, and PC. However, you can pay a whole lot more if you want extra content in this game.
To boil it down, more Monsters will cost more money. Going with the Deluxe Edition will set you back $79.99 right now on Steam Store, and it gets even more expensive going all out with the PC-exclusive "Monster Race Edition" - right now it's running $99.99 on Steam Store.
Fortunately, digital retailers frequently have deals that cuts the price down on Evolve. Having said that, it's still a pretty penny from anyone's pocketbook for a video game.
Is the Monster Race Edition worth throwing down $100? (Or $77 to $80, depending on the deals available?) If you're a fan dead set on playing Evolve on Day One and all the content that will be available, the answer will be "Yes." If you're not and you're wondering what's a good price point to stop, check the breakdown below.
TL:DR; Standard Edition pre-order is best bet if you don't care about the 5th monster or the Season Pass with extra hunters. If you want everything, the Monster Race Edition is the way to go (no pre-order required). Deluxe edition is only worthwhile if you want Season Pass, safe to skip.
Pre-Order Deals for Evolve
Deals at GMG:
Deals at DLGamer:
Console Deals:
(Deals listed above are valid as of writing on 2/4/2015).
Price-Per-Monster Breakdown
Now that you've seen the prices for the various edition, its time to do a price check to see what the actual cost differences will be.
For the sake of simplicity, we'll take the other contents you get with these editions out of the picture (check the feature list breakdown below for what each edition includes).
If all you care about is playing the Monster side of the game, you'll want to know the best way to buy that unlocks them all. Is there a way to get all five for less than that insanely expensive "Monster Race Edition"? The short version is: if you don't pre-order, buy the Monster Race Edition... and if you do pre-order, you probably should still buy the Monster Race Edition. Uh.. yeah, its complicated.
Everyone will receive three Monsters in the Standard Edition: the Goliath, Wraith, and Kraken. If you pre-order any edition, you'll also get the "Monster Expansion Pack" for free, which gets you a 4th monster: The Behemoth. Post release, the Monster Expansion pack will cost $14.99, so if that fourth monster is a big deal, you might want to pre-order right now. Here's a breakdown on how much it'll cost per monster:
Number of Monsters
| | | | |
| --- | --- | --- | --- |
| | Standard: $45 | Deluxe: $60 | Monster Race: $75 |
| Pre Order | 4 | 4 | 5 |
| Post Release | 3 | 3 | 5 |
Cost Per Monster
| | | | |
| --- | --- | --- | --- |
| | Standard: $45 | Deluxe: $60 | Monster Race: $75 |
| Pre Order | $11.25 per monster | $15.00 per monster | $15.00 per monster |
| Post Release | $15.00 per monster | $20.00 per monster | $15.00 per monster |
The chart above might seem like the Standard Edition pre-order with its four monsters provides the best value... and it is if you stop at four monsters. If you want the fifth playable monster, however, you'll have to factor in buying an additional $14.99 DLC pack, which bumps that price per monster up significantly. Below is a chart showing what the cost will be per monster if you are determined to buy all five.
Cost For All 5 Monsters
| | | | |
| --- | --- | --- | --- |
| | Standard: $45 + $14.99 (DLC) | Deluxe: $60 + $14.99 (DLC) | Monster Race: $75 |
| Pre Order | $12 per monster | $15 per monster | $15 per monster |
| Post Release | $15 per monster* | $18 per monster* | $15 per monster |
*This price assumes you'll buy the Monster Expansion Pack for $14.99, along with the upcoming fifth Playable Monster expansion (yet to be announced) for $14.99. The extra $14.99 factors in only to the Standard Edition and Deluxe Editions after the games release.
In conclusion, if you want all 5 Monsters, over time you're paying the same ammount of money in most instances as the Monster Race Edition AND you'll be missing out on a ton of extra content. If you want all 5 monsters, you might as well get the Monster Race Edition, which will also get you the Season Pass and all other DLC content for the game. You could look at the chart above and see that pre-ordering the Standard Edition and getting all five is still technically cheaper, but you'll also be losing out on the Season Pass and all the other DLC. If that balances out for you, it might be best to bite the bullet and go all-in on the Monster Race Edition.
Buying the Monster Race Edition will get you a fifth monster, and all other content in the game known to us so far - including the Monster Expansion Pack even after the game releases. If you're absolutely sure you'll want all these additional content, it'll save you money in the long run on the other DLCs, and of course, it'll also "save" you money on all the monsters available.
Evolve Editions Compared
Monster Race Edition: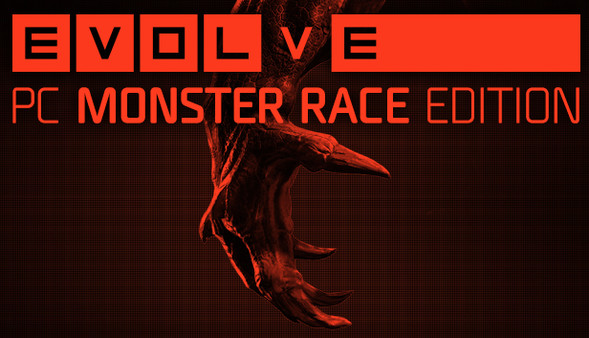 Fifth playable Monster
Two additional Hunters exclusive to the Monster Edition
Four extra Monster Skins exclusive to the Monster Edition for 30 days (later to be added as DLC)
Evolve: Hunting Season Pass
Any/all content from the other Editions
Evolve Deluxe Edition: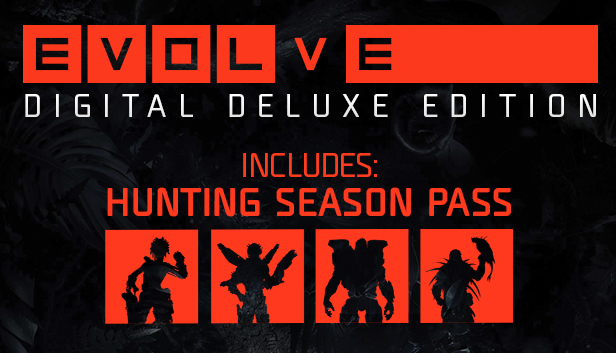 Evolve: Hunting Season Pass (cheaper to buy Deluxe than Standard and Pass separately)
Evolve Season Pass:
3 Exclusive Monster Skins
4 Hunters (as they are released)
Evolve Pre-order Bonus Breakdown: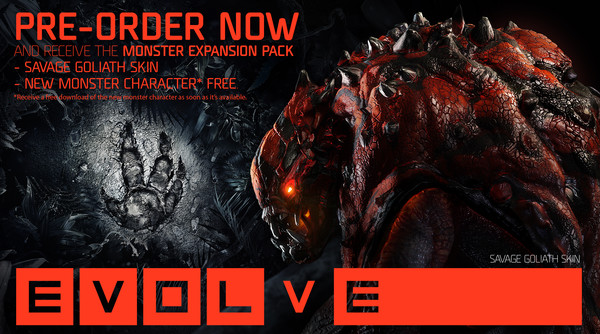 4th Playable Monster Available (the Behemoth)
Additional Goliath Monster Skin