Everything About the HP DV7t Series
HP's Envy dv7t series is designed as a desktop replacement and for situations where you need a real workhorse. With a 17.3-inch widescreen display (upgradable to 1080p) it has enough screen real estate to make you feel at home watching TV or on a desktop monitor. The wide range of upgrades available the dv7t can suit almost any need; from a powerful gaming rig to a portable workstation the dv7t delivers performance. It's a bit on the heavier side (6.94 lbs) but that should be expected for a laptop this size - and while still portable it's not what you want to use on an airplane.
HP tends to release two different categories of coupon codes for the dv7t. Occasionally there will be big flat rate coupons (i.e. $175 off dv7 laptops) or percentage based coupons discounting between 20-30%. When a flat rate coupon is offered it's usually best to buy the cheaper dv7 configurations without upgrades. When a percentage based coupon is offered it's the best time to buy one with upgrades. The most highly recommended upgrades for a gaming/video playing rig are the GeForce GT 650M graphics card and a 1920 x 1080 display. Sometimes HP release several coupons at once, this is where Dealzon comes in - we wade through the coupon codes and link to lowest possible prices.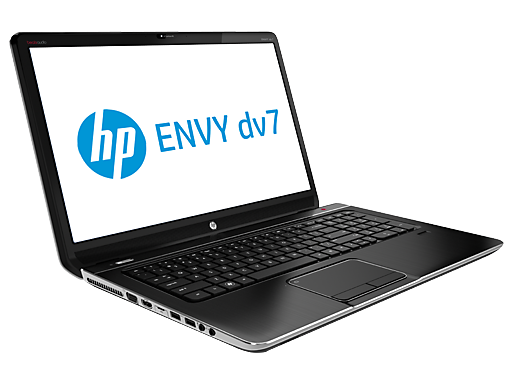 High-end HP dv7t Quad Edition
With the Envy dv7t-7200 Quad Edition you get a high end "Ivy Bridge" Quad-Core i7 processor. This feature makes the dv7 Quad laptop a true workstation replacement with serious multitasking power. The added speed is sure to hurt battery life though, as a Quad-Core will suck more power than its little Dual-Core brothers.
The graphics card performance in this model doesn't start out at a serious gamers level. That doesn't mean the base configuration can't handle the latest releases, just not on high settings. With the base Intel HD graphics card you're looking at enough power to play most new games at medium to low settings for good play-ability. Springing for the extra GeForce GT 630M ($50 more) or GeForce GT 650M ($175 extra) will vastly improve gaming and video performance to high and full settings.
In addition to a beefier processor and better graphics options the Quad Edition throws in some nice extras like a Beats Audio sound processor for improved sound quality as well as a brushed metal case.
The base configuration of the dv7t-7200 Quad Edition laptop starts out at $979.99. A good time to buy it is when the price dips below $800. We show a total of four dv7 Quad Edition configurations - the highest end rig being upgraded to a 1080p display and GeForce GT 650M graphics. That beast starts at $1,204.99 and is a good buy when discounted below $1,050.
HP dv7t Select Edition
The dv7t Select series is a mid-ranged laptop. The base configuration starts out with a dual-core i5 processor for $699.99. A good time to buy the dv7 Select is when the price drops into the $650-$680 range. While HP allows you to upgrade the dv7t Select to high settings (like a Quad-Core i7 processor and discrete graphics) it almost always will be a better decision to upgrade a dv7 Quad Edition. This is because the dv7 Quad Edition tends to get better coupon code discounts from HP and 99% of the time will be the better option for an upgraded rig.
HP Pavilion dv7t-7000 Model
This was a popular model prior to October 23rd, 2012. Since then HP has been slowly phasing out the old Pavilion dv7 with Windows 7. The laptop is very similar to the newer HP Envy dv7t-7200 with Windows 8 but rarely is seen with good discounts anymore. If you find the Pavilion dv7t-7000 below $800 it is a good purchase.
Bottom Line on the dv7 Series
For someone who wants a lot of screen real estate for productivity purposes or wants to play the newest gaming releases in modest settings, the dv7 will be a good fit. With both models (dv7tqe and dv7t) coming standard with 8GB of memory you should be equipped with more than enough memory for all but the biggest power users without having to pay extra. If you don't need the bigger screen though, you might want to consider exploring the HP dv6 for better portability because it is equipped with many of the same specifications in a smaller 15.6-inch format.